One photographer, two approaches.
When you're hiring a wedding photographer, it's pretty much a given that you're going to get all the big stuff. The kiss, the signing, the play-by-play, and the historical record of what happened. Ok, great. All good and fabulous.
Underneath all that though, is your little cousin Ned deep in the throes of inner nasal-cavity exploration. And at the dessert table, Aunt Claire is thieving from some of the jars when her ass should be well sat-down by now for speeches.
All of the quirk is as important as all of the glamour, and this is the stuff that we're really looking for.
To get the best of this, I shoot a unique mix of modern digital, and analogue Kodak film (apparently I'm meant to say that I also may have won international analogue photographer of the year a few years back). To do this, I bring along the same cameras that were originally used to document the first moon landings (not the exact same physical one though.. that's still left up there on the surface).
When you hire Briars Atlas, you aren't hiring a wedding photographer, you're hiring an experienced pair of eyes, finely-tuned in to understanding the beautiful strange circus that is a whole lot of connected humans in the same space, to care about your community for the day.
And to make stuff not just for you, but for that community.
This is what we do. And the fact we're handy with a camera is just a bonus.
To find out our full pricing and inclusions, fire us an email or book in a zoom-session directly here.
I' m Oli.
Brought up on drawing and death-metal, i've always been interested in what's at the edges, and what's just to the side of the obvious. It's exactly what's led my work to be sought out by couples and planners all over the world.
I've done this for nearly a decade, so I know my way around making folks feel comfortable in front of camera, applying my unique way of seeing the world on their community, and making them come out with an incredible experience, and some important slices of nostalgia to enjoy.
How do I know you're the photographer for us?
I recommend reading some nice words from my past couples just below this. If those lovely words bake your muffins, then send me an enquiry for an obligation-free hangout over zoom.
What's the key to looking great in my photos?
A Michael Bolton or Tina Turner record playing in the background, an industrial-sized hair-fan in your face, and a tasty ice-cream in your hand of choice. Substitute any of those for your own happiness ingredients, and/or a community that you love around you - thats the key to a great photo. I'm a black-belt at making people feel comfortable, and specialise in the camera-proud and camera-shy alike.
Why are you a wedding photographer?
I wasn't good enough at physics to navigate a moon landing, so joining the most incredible communities at their wedding was the next best thing, and merges everything that i love about people, ceremony, art, and photojournalism together (all without ruining my carbon-footprint by busting through our upper atmosphere with a high powered rocket). And oddly, this is all stardust anyway: 147 million kilometres from your wedding, a giant ball of explosions (otherwise known more endearingly as "the sun") releases particles of light that have fought for about one million years from it's centre to it's surface. These then escape and sprint 8 minutes towards you, busting through the earths atmosphere and bouncing lovingly onto your majestic faces, and then into my cameras. I probably won't call myself a physicist anytime soon, but to me, it's fascinating stuff.
Craziest thing that's happened at a wedding?
I've seen couples get married in a sea of canoes, and i've chased Bruce Springsteen around a house after he was the wedding singer in a backyard. But the wildest things are always the smallest things. Your community with, around, and for you. I call it "the incredible bigsmall", and it describes exactly what I do: find all the incredible small stuff. The cheeky glance between your folks. The wayward finger of your nephew indulging in deep-nasal-cavity exploration mid ceremony. Etc.
Our budget is $X. Are there any ways to accommodate?
While I don't offer any discounts, I do however, make sure that your photographs are ones you'll be talking about more than you could possibly imagine, though. For smaller celebrations, coverage may be reduced by an hourly fee in the price-list to match your budget.
Will this be as painful as high school?
I don't know if you meant "high school" or "high school photos", in any case, no, you won't have an existential crisis, and no, these aren't your average school photos. But here's the good bit: I have over half a decade of experience in making people who hate the camera, feel right at home in front of it. You might notice that the galleries here look a little different to what you expected: and that's because apart from knowing how to wave a camera around, my best skill is creating a comfortable space, where the incredible you comes out, as you are, because what matters most is your experience, and everything comes afterwards.
Can you shoot our entire wedding on film?
We've become one of the most sought-after analog film wedding photographers on the planet, using a mix of point-and-shoot, 35mm, medium-format and more, and even taking out a swag of awards in the process. Find out about hiring us as your film wedding photographer by scrolling down.
Click on this if you're awesome
Knew it.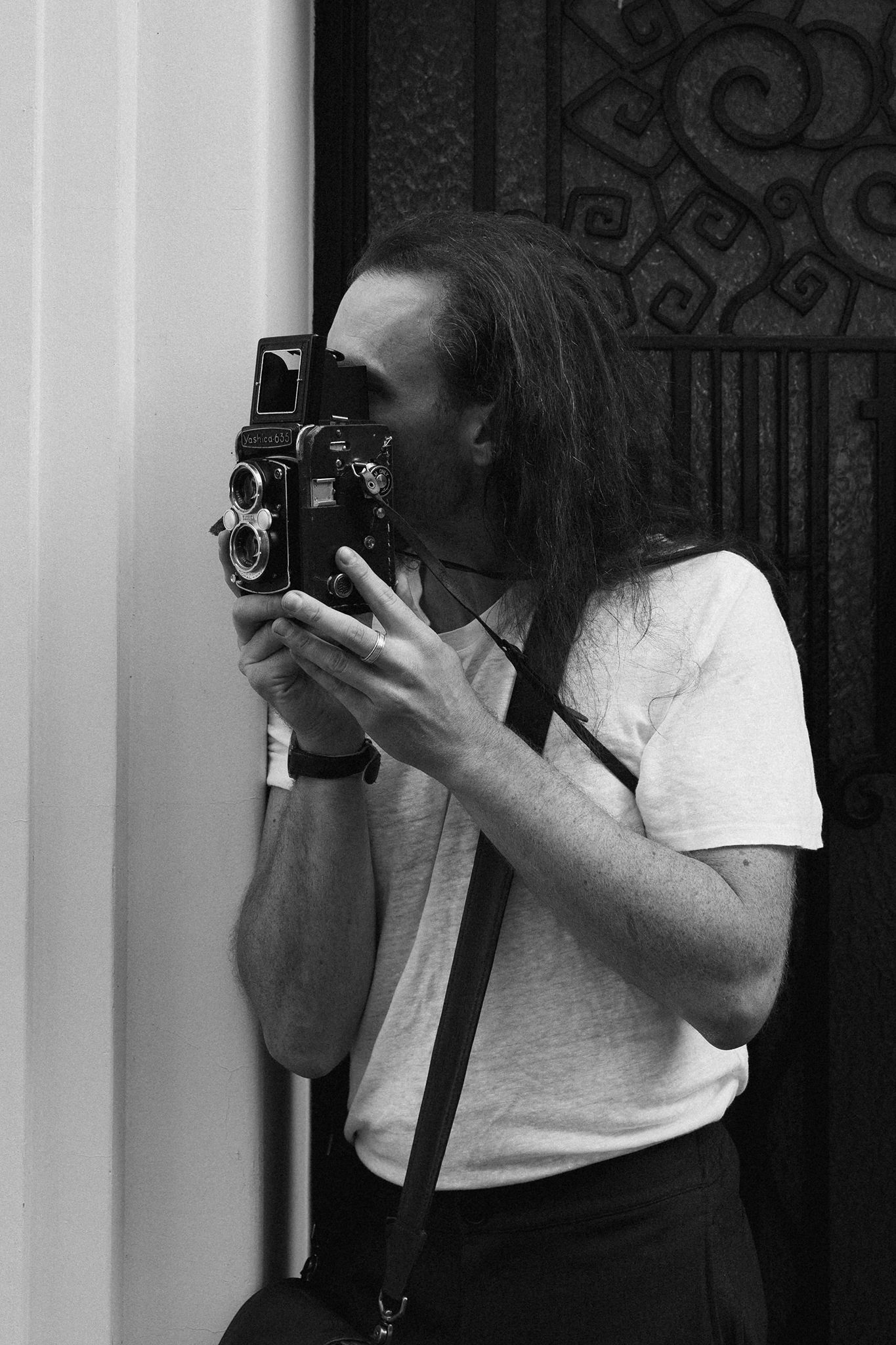 We're bringing film back.
In winning the international film wedding photographer of the year, we know a thing or two about the old ways: expertly using a mix of 35mm film, medium-format, point-and-shoot cameras and more.
Make an enquiry to find out how the magic of analogue film can be part (or all) of your wedding photography coverage.