Danee of Killer Queen Creative is a feel-good merchant, personal branding genius, and resident rockstar of the Melbourne hair and makeup scene. We took over The Line for the wedding of Pepi and Sam, Featured in the pages of Hello May (Hello May Wedding Photographer), and now she's taking over my internet space (and so too should she take over your makeup and hair for your Melbourne elopement).
With Covid forcing us all indoors and all manner of brilliant doorstep portrait projects happening, I wanted to kickstart some convos with my local community and find out how the time and strange space is being used, as it's never been more important to stay connected and sharing.
Wedding Hairdresser Melbourne: Killer Queen Creative
So who the hell are you, what do your friends think you do, and what do you actually do?
I'm Danee, founder of Killer Queen Beauty. My friends think I play with pretty things and put on eyeliner all day and swan around at weddings.
In reality, like all small biz owners, my craft is only a very small part of what I do- the rest is all about running the show and keeping the wheels turning.
I'm a one woman creative show, offering makeup, hair, and education. I help rad rebel brides to have the non-traditional day of their dreams by giving them advice, support and expertise for wedding day beauty that is non-boring, non-conventional and as unique as they are.
I like to think of my brand as the punk maverick of the beauty world. I do things differently, I love to smash beauty stereotypes, and I despise conformity!
What excites you most about the culture of weddings in Melbourne?
I LOVE being part of the wedding industry in Melbourne and feel like I've really met my people- weddings in Melbourne have such much scope for creativity and there are so many amazing venues that are all about being flexible to couples' wildest desires. And there is so much ridiculous talent in this city.

I'm stoked to be part of the more alternative side of weddings because that's where I feel all the creativity and the envelope pushing happens.

To me, a wedding is a really big opportunity to express who you are and create some amazing art, experiences and memories.
At Killer Queen Creative what do you feel separates you from those around you in your line of work?
I think it's heart and magic. I put everything into my weddings- they're not just jobs for me but magical celebrations and connections.
I like to bring a creative approach and lots of feelgood vibes to someone's special day; being part of the planning process and connecting with the bride on the morning before all the mayhem starts is petty spesh. Weddings are a bloody big deal and your wedding day is one of the best days of your life- why not spend it with rad people who get a buzz off creating the best day possible for you?
How have you kept your business healthy during Covid, and how might couples now benefit from it?
I spent the time in lockdown helping couples reschedule their weddings and navigate a nutso time!
I also opened up a lot of digital offerings, and took the opportunity to have a good shake up of all my systems and processes; as a result of that I ended up overhauling a lot of my systems including my website, so it's all much more kickass and easy to find what you want.
Through the whole time, I've learned that I'm heaps more resilient that I thought- and I also learned to surrender control over things that were bigger than me, to ride the wave a bit better. As a result I think I became more adaptable and more chilled about chaos.

I think those qualities make me pretty well placed to deal with any wedding fiascos, and help you through any hiccups.

I might drink all the wine but I'm a good companion to have if the seas get rough.
How do you see the future of weddings in our city and what mark do you want to leave on it?
People want to create celebrations that are unique as they are. It's not about cookie cutter anymore; people are really putting their stamp on their big day and making it all about an expression of them and their love story. I love that couples aren't as concerned about tradition, but more about celebrating their love.
I want to be part of as many out-there and wild weddings and make people feel larger than life on their day. I'm all for encouraging radical self expression and defying convention so I'm more than happy to be an enabler of that.
I want couples to look back on their day and ecstatically and fondly remember everyone that was part of it and how magic it all was. Like, when they're in their 80s they can look back at their wedding photos and say they threw one hell of a memorable party.
Also! I want Melbourne to be a standout destination for out of this world nuptials!
I want to be part of a wedding revolution going forward, pushing for diversity and change in the industry. Helping and mentoring younger vendors in the industry to develop their brand to find their niche and their people. Being part of a wider network of mavericks turning tradition on its head, and bringing innovation into the wedding space.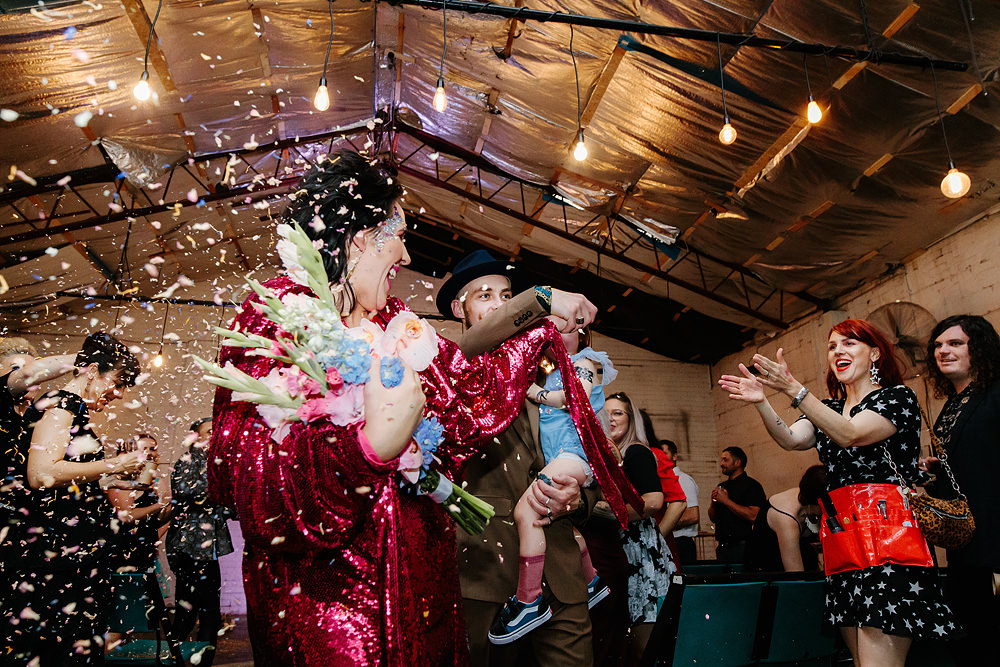 Wedding Hairdresser Melbourne: Find Killer Queen Creative Online
Killer Queen Creative on Instagram
If you're having a Melbourne city elopement, get this legend on your team.