Suzanne Harward is one of Australia's brightest design minds. Her wedding dress designs have been at the leading edge for nearly 30 years. If you're getting married in Melbourne (or anywhere for that matter), it's hard to go past our own hometown maestros, Suzanne Harward wedding dresses, for world-leading bridal design. In this post, we'll look at a few of the best Suzanne Harward bridal gowns i've seen.
Based in Collingwood, the Suzanne Harward team are responsible for some of the most forward-thinking, design-minded pieces that are not only a joy to photograph (I might have a personal bias), but incredibly decadent pieces for brides.
Most importantly, each and every time I chat with a bride about their choice of gown, they end up falling over backwards in adoration for the team, and it's pretty easy to see why.
While you're here, be sure to also check out these other incredible unique wedding dresses.
Suzanne Harward Wedding Dresses featured in this post
I've been fortunate enough to photograph several fashion-forward brides over the years and got to photograph the best modern wedding dresses around – which much of the time happens to be a Suzanne Harward.
Here, i've picked three of them, that offer a quick look at what the Suzanne Harward team can do a across the whole spectrum: from elegantly classic, to something from another planet.
All photographs below captured by and remain copyright of Briars Atlas.
Suzanne Harward Wedding Dress: The Bluebird Gala Gown
Laura and Walker:
Category: From another planet
Gown: The Bluebird Gala gown also: Songbird gown
Laura's Suzanne Harward gown knocked my socks off as soon as I walked into their Daylesford bridal prep house. Hanging from a rustic door, it was adorned with the most incredibly bright florals etched into it, with gorgeous soft peach/pink tulle layers.
Laura and Walker were married at the Daylesford convent, a beautiful historic location that made for a perfect contrast to Lauras gown.
I've just gotta step in here: how incredible is that speckled light above? You can find that yourself by heading to the Daylesford Convent Gallery.
Treats. Always. Win. Laura and Walker invited their beautiful little scallywag Bonnie along, and she stayed for the entire day and partied well into the evening at the Daylesford Convent.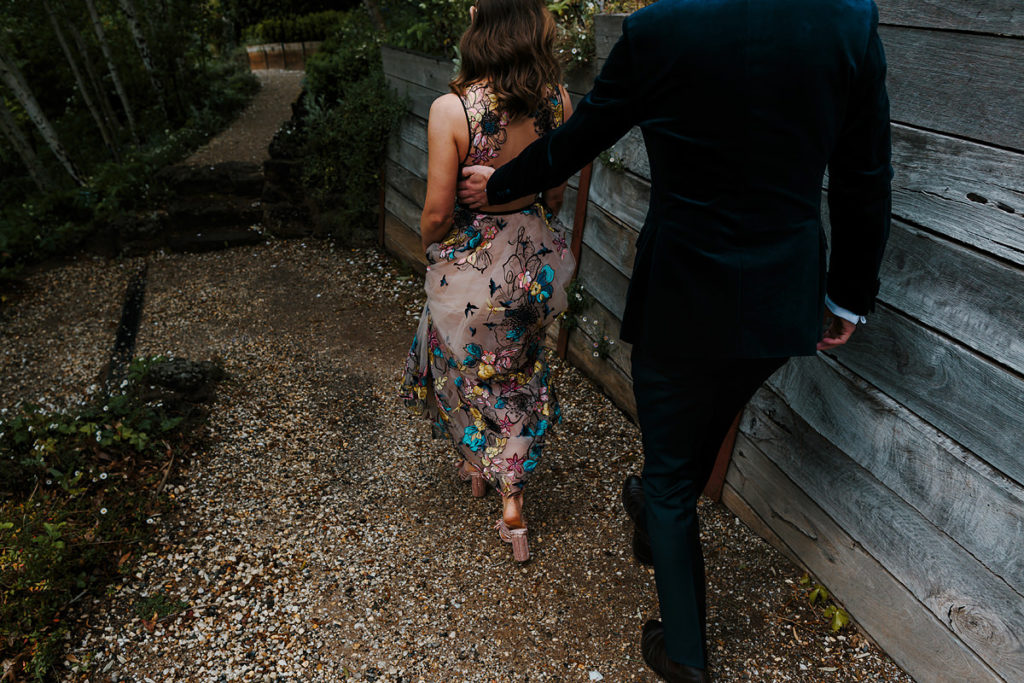 Want to see more of Laura and Walker? They are featured in print, having been published inside issue #19 of Together Journal. Already got your Suzanne Harward gown and want me to photograph it? You can enquire to hire me here.
---
Suzanne Harward Wedding Dress: Eden
Iro and Alex:
Category: Somewhere from here to there
Gown: Eden (no longer available)
Iro's stunningly detailed dress is a masterclass in modern classic design. I like to think that I have this gown to thank for this image landing me as a category finalist for International Wedding Photographer of the Year 2018 – a beautiful moment in bridal prep accomodation in rural Victoria, before her wedding to Alex at Newstead Butterland (also featured here on this post about Castlemaine wedding venues).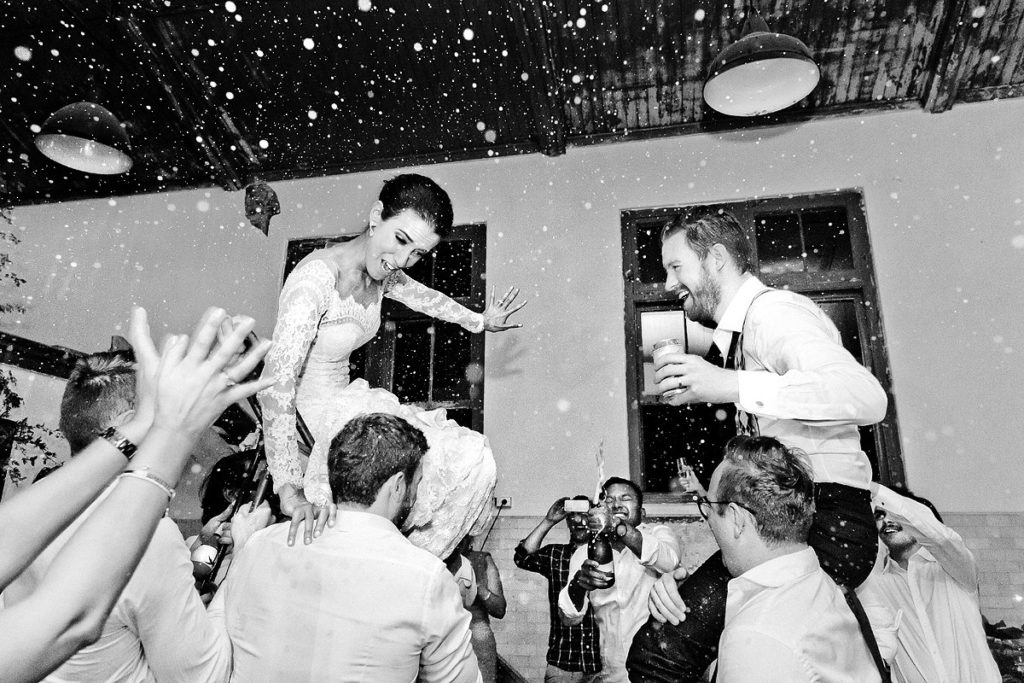 What they won't necessarily tell you on the Suzanne Harward website, is that no matter how gloriously decadent their gowns are, they are able to withstand a champagne spray from even the most enthusiastic friend.
Want to see more of Iro and Alex? They are featured here in Together Journal. Already got your Suzanne Harward gown and want me to photograph it? You can enquire to hire me here.
---
Suzanne Harward Wedding Dress: White Look #5
Tash and Jacob:
Category: Elegant modern classic
Gown: White Look 5
Just when you think that you can't be beautifully surprised by a new take on subtle classicism, Suzanne Harward come out with this sleek, elegant gem. Natasha and Jacob were married at the Melbourne registry office, and we spent a little time traipsing around some of my most favourite, secret spots in the city, with gorgeous soft light that played off against the simple shapes of the gown.
These brilliant humans are featured on my website here.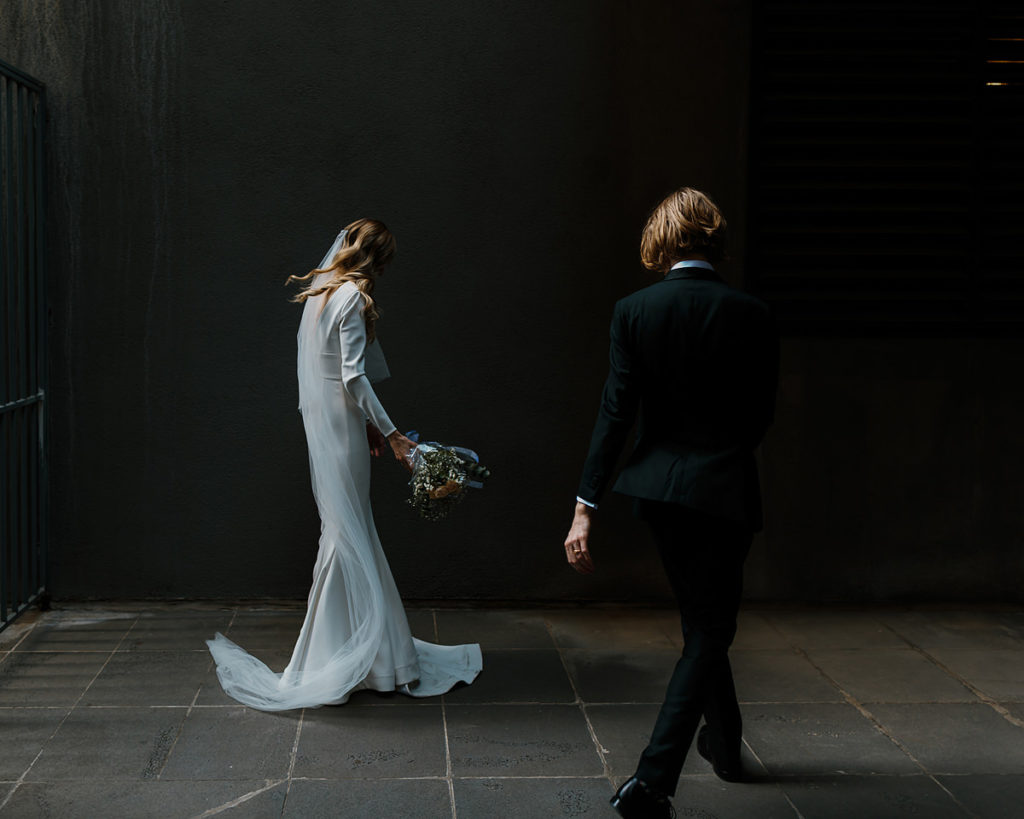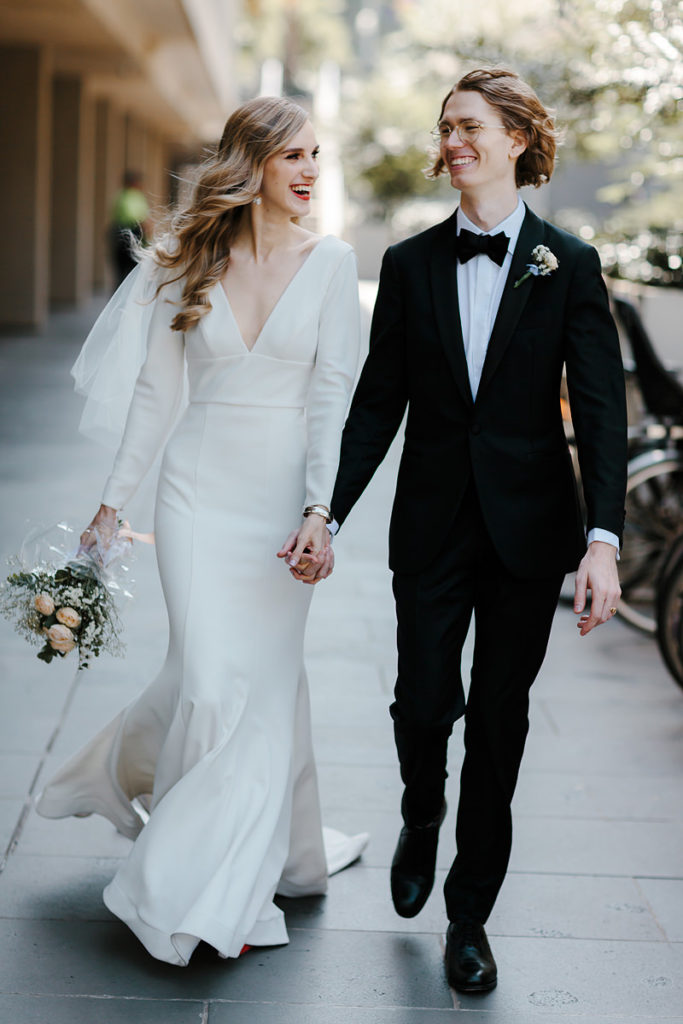 Thanks for reading! I hope you enjoyed this roundup of the best Suzanne Harward wedding dresses (in my humble opinion – don't let that stop you poring over their incredible range on their website below).
Where to Find Suzanne Harward Bridal
www.suzanneharward.com
73 Johnston St, Collingwood VIC 3066
All images taken by Briars Atlas.
Book me to photograph your wedding
If you'd like to make an enquiry for me to be your wedding photographer, head here.