Back in 2016, Steph, a brilliant photographer in her own right, reached out to see if I'd head over to Fremantle to photograph her Quarry Farm wedding to the debonair Zac (who has an uncanny resemblance to old mate Westley from my all-time favourite film, Princess Bride).
After musing on it for all of 0.0413 seconds I said yes, and one of the joys, apart from the general brilliance of spending a day with these to maestros, was discovering a gem of Fremantle – Quarry Farm.
Enjoy the images from their day – and what was the first ever wedding hosted at this glorious venue outside of Perth. It's always a wild honour photographing an artists wedding, and it's crazy to me that over half of my bookings these days are from fellow wedding photographers! It raises the stakes a little bit, but I wouldn't have it any other way.
Steph and Zacs Quarry Farm Perth wedding was featured on Polka Dot Bride. Head over there to see their full day and beautiful story.
Steph and Zacs Quarry Farm wedding.
Steph and Zac didn't see each other beforehand, but shared a prayer together with a dash of touch on the morning.
I imagine that when the bridal designers were creating this gown, the exact thing they had in mind was "bridal peace ninja".
See more kids at weddings here.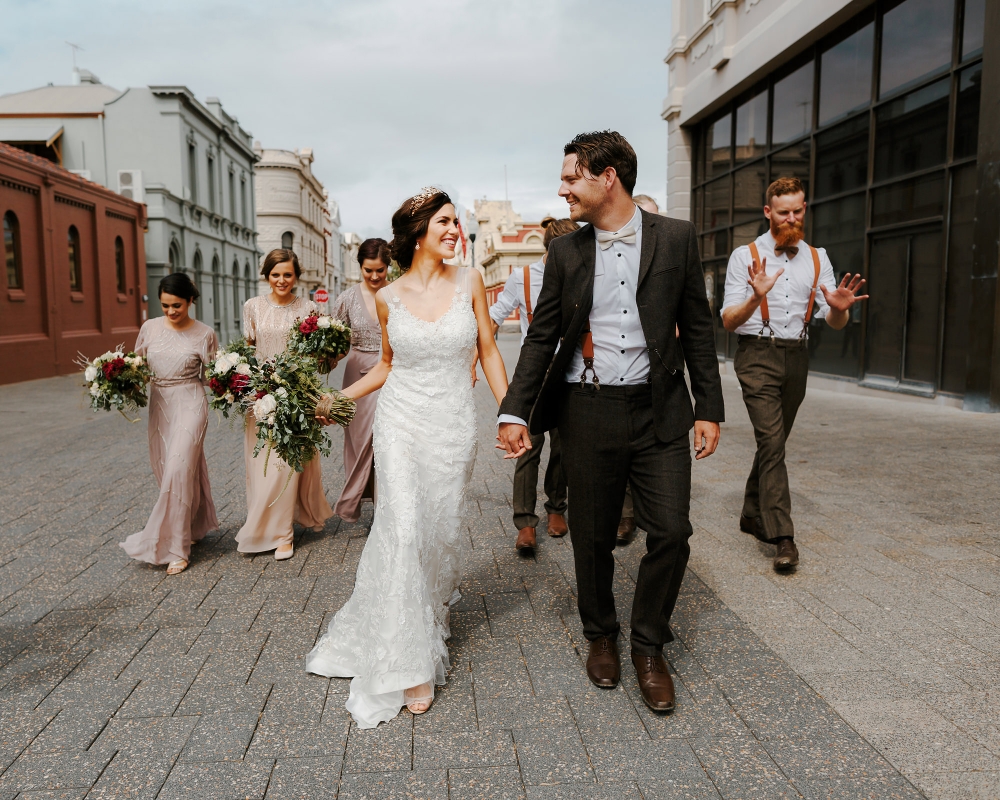 The classic Fremantle walk – one of my favourite areas to shoot Fremantle wedding portraits in. The historic Fremantle back streets make for a marvellous backdrop to have a stroll through.
Steph and Zacs reception dance floor began with a dance-off between herself, her dad and brother.
Quarry Farm has a little lake at the base of the reception room, brilliant for a secluded little spot to escape to for some evening portraits.
Quarry Farm call themselves the best rustic wedding venue in Perth and it's pretty easy to see this holds up, with a huge diversity of usable areas and natural surrounds on over 200 acres.
Find Quarry Farm Perth online
Quarry Farm website: https://www.quarryfarm.com.au/
Find Quarry Farm Perth in real life
1475 South Western Hwy, Whitby WA 6123
Book me for your Quarry Farm Perth or Fremantle wedding
I regularly photograph weddings in Perth and Fremantle, and there are no additional costs or complexities involved. Reach out to me via my enquiry form over here.
Looking for an incredible Perth wedding gown designer? Check out Jaime Lee Major.