Will and Jac are the agile Melbourne wedding planner duo made up of Catherine and Clare, who as well as being event planners of all sizes and styles, are portable transportation units for infectious smiles. We've worked together with brilliant couples in venues from historic Melbourne stables over to bluestone homesteads in northern Victoria.
As two of the best wedding planners in Melbourne, they have a wealth of knowledge to share on how to plan your Melbourne wedding, as well as sharing some reasons on why you might want to hire a wedding planner.
How early in the piece do people engage you as a Melbourne wedding planner? I always imagine that planning is, like a lot of the elements of a big celebration, something that folks think they might be able to take care of, until it's revealed how complex the task is.
Clients approach us at all stages of their planning journey – some 2 years out, others with only a month or weeks to go (when things might have turned a little more 'tense' – we are counselors too!).

Typically with private property Weddings, couples and their families realise from the outset that it's a bigger ball game and that professionals are needed to ensure the process is well executed – not only on the day, but in the days leading up when suppliers commencing setting up, as well as when the celebrations are over and you need to return the space as it was originally.

With venues it can be early or late in the piece, with some locations offering more hands-on planning via their onsite coordinators, while others leave it completely to the client to make the space and Day exactly as they wish.

Life has curveballs and with this, there are numerous scenarios when people realise they need help – perhaps work hours have increased, the couple don't know where to start (this is absolutely normal), the client want to start enjoying the days prior to the Wedding and move from "planner" to "getting married" and like all of us, sometimes there's just not enough hours in the day!
Do you get a mix of folks who engage a Melbourne wedding planner from the start and others that engage you partway through?
Absolutely! And we prefer to approach the planning with our couples by having them make and decide who they wish to engage – we do all the leg work to provide them with options and our industry experience, but at the end of the day it's their celebration, we just make it all reality.

I like asking these as an outsider, as I am literally naive when it comes to the planning side of things. All I know is that when working with you the day is a well oiled machine and you always seems as calm excited as if you've just had the most satisfying fairy floss ever. What are a few of the main myths you find are out there around wedding planning and the role it plays on and around the day, and how do Will and Jac show their true colors and tackle them?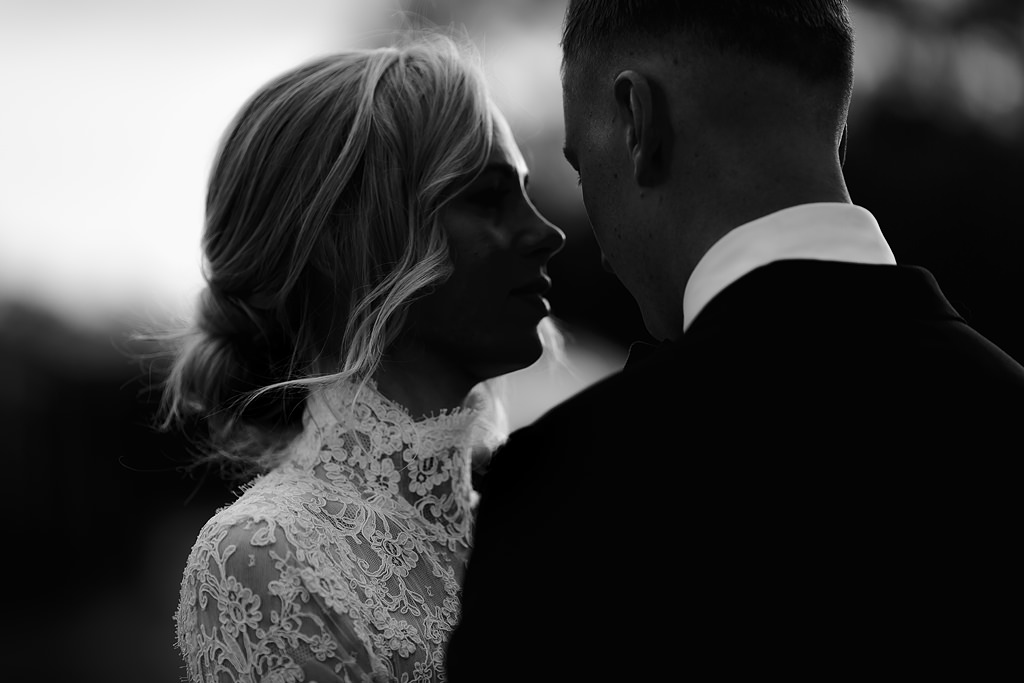 We believe that generally people still foresee Wedding Planners as those referenced in movies like The Wedding Planner and Father of the Bride – but this couldn't be further from the truth.

We get our hands dirty and have completed all manner of duties to get our Weddings in tip-top condition – our role includes horticulturist duties (repotting plants for styling), seamstresses (being underneath a Brides dress and re-hemming gowns on the day), Sous Chefs (plating up in the kitchen when extra hands are needed), Accountants (budget management) and everything in-between.

We are also both meticulously painful in terms of attention to detail, and will create multiple scenarios for our Weddings so that no stone is left unturned that we can't then manage on the day.

We are Chief Fire Fighters too and on the day we effectively ensure we have a calm and positive disposition and manage numerous underlying curveballs that pop up – such is life! – while ensuring no-one (except us) are any the wiser.

Melbourne has no shortage of warehouses, restaurants, galleries, factories and everything in between to host celebration. What are some of your favourite wedding venues in Melbourne to host a wedding and what's unique about our general landscape for hosting celebrations?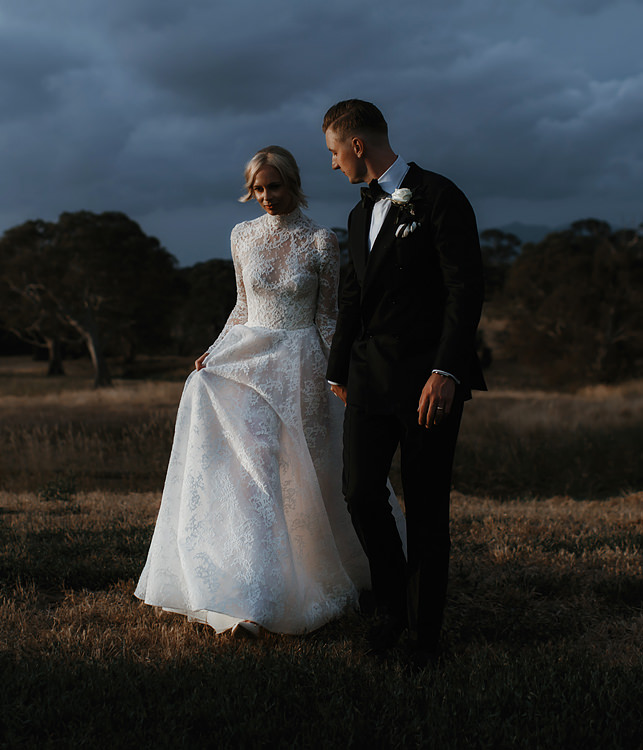 We can't go past Private Property Weddings – they are all unique and we love the experience of a blank space going from 'nothing' to 'something'.

These occasions are a logistical beast, the time that we spend curating a working event order and communicating between all parties can't be imagined, but at the end of the day when we see magic form in-front of our eyes, it's worth every minute.

Venue wise yes, Melbourne has unlimited options for every celebration, but a few we love are Polperro Estate in Red Hill, The Royal Mail Hotel in Dunkeld, Tanglewood Estate and Alfred Place by Rockpool Events.
I'd love to pick your brains about some of the "lesser known" things you come across. I feel that for example when a couple engages a photographer, that they might imagine that they need the group shots, some candids, and some of the general play-by-play: where the real joy is in giving back and making sure we get special portraits of grandparents, and are attentive to all the more strange and theatrical things that happen when there's 100 people in a confined space: things that they end up loving. From your experience and memory, what are some of the more offbeat reasons folks have benefitted from having you along for the ride in the past, as a surprise to them, or even you?
We've received many a phone call from concerned parents who have noticed that the somewhat 'simple Wedding' picture that their child had wished for has been hijacked by concerns, so they call us to find out how we could elevate these doubts, and then we meet directly with the couple to showcase our services and story.

We generally then join their planning and they are able to start re-enjoying their engagement journey. We've been brought on-board to manage family dynamics and play the role of mediator. It's one scenario where we are "good cop" and "bad cop" (guess who is who?!) and take any unwanted strain off the couple.

But mostly couples realise after the fact what our services are worth.

It's the 'big picture' stuff that we specialise in – we are all about making the day not only seamless for the couple and their guests, but also for their contracted suppliers, as together, the day is all the more memorable!

Every couple is so different. How do you scale your offering and match your approach to the couples broader plans for the day?
We can do as little or as much to assist with a Wedding Day. But to be honest we're both control freaks, so Full Planning is our preferred option.

I don't wanna throw you in the hot sauce, but I've taken a look at your reviews and it seems like you're jetting around the state on site-visits with couples, multiple meetings over a 6 month period, and generally doing things that results in couples leaving reviews of "like angels on your shoulders", "Easily reachable" (a criteria folks should pay more heed to), and "we thought we were perfectionists until we met Cath and Clare" (from our dear Hannah and Ben) — how important to you is the personal aspect of the job and how does it change the experience for the couple?
Personalised service is paramount. We are all about ensuring their peace of mind, bringing their story to the Day, and exceeding expectations at every turn.

These were also concepts that we had as individual planners therefore when brought together as Will&Jac, this has doubled and is exactly why we do what we do!
Broader top three reasons to engage a Melbourne wedding planner?
1. Ensure your Melbourne Wedding Planner quotes are reflective of your needs

2. Utilise what's at your location as much as possible – repurpose furniture, ensure event conclusion times/noise limits are in line with your wishes

3. Planning a Wedding is a full time job, so allow a professional to manage your process and keep your ticking towards your date in the right manner. A 'relaxed' Wedding Day comes from months and months of planning, it doesn't just happen!

Top three things for a couple to think about more generally when they begin planning their wedding and who and what might be involved?
1. Consider public holidays/special events (surcharges etc)

2. Always have a Plan B for your Ceremony and Reception – you just never know!

3. Ensure you 'click' with your supplier tribe. You need lots of positivity and stressless spirits with you towards and
More questions answered
How do you start planning your wedding?
1. Work out what your ideal wedding day looks like. Have you considered an elopement?
2. Work out how much you're prepared to spend – using a best case and worst case scenario
3. Find your ideal vendors. See the best wedding venues, wedding celebrants, wedding bands, and videographers for some ideas.
4. Hire a planner! They will save you time, money, and stress. I recommend Will and Jac (featured on this page)
How much does a wedding cost in Melbourne?
If you read a shady bridal magazine, the average cost of a wedding is around $65k. Fortunately, you can host an incredible wedding in Melbourne from as little as $1k if you use I do Drive Thru or The Altar Electric, up to whatever you are comfortable spending.
Book your Melbourne wedding planner
Will and Jac / Melbourne Wedding Planner website: http://willandjac.com/
Book me to photograph your Melbourne wedding
Melbourne wedding photographer – Briars Atlas: Enquire
While you're on the planning train, check this post out for how to plan your wedding music, and this piece on the best Melbourne wedding photo locations.