Unique Melbourne Wedding Photo Locations: or informally, a list of the best Melbourne wedding photo locations that aren't already on every other list out there.
Here's a rundown of some of my favourite Melbourne wedding photo locations, organised by the mood they give, to show you what brilliant variety we have in our own inner city for weddings: from gritty industrial, all the way over to the most incredible nature within a stones throw of the Melbourne CBD. Included in all locations are Google Maps pins.
These are my top 15 Melbourne wedding photo locations (I have plenty more hidden gems, but you'll just have to head out on foot and go exploring yourself to find them, or book me as your wedding photographer).
Be sure to tune in for the very last one – some of my favourite little slices of Melbourne alleys. If you're getting hitched in the city or inner city or eloping in Melbourne, I know these like the back of my hand as well as a whole bunch of wonderful other little known spots.
These are somewhat more popular locations, but when looking at where to take photos in Melbourne i've found they're ripe for putting a unique spin on each and every time, especially if you're planning a Melbourne elopement.
1. Classic Melbourne Wedding photo location: Melbourne Treasury Building
The Melbourne Treasury building is the go-to photo location for registry weddings in Melbourne, and one of the most iconic spots for Melbourne wedding photos. With its incredible historic design and layout, it's one of the best places to take photos in Melbourne. What people often miss though, is that the immediate surrounds of the building have the most brilliant wedding photo locations, perfect for rain-shielded photo sessions, sunset sessions, all of it. If you look closely, you can see some of these at this Fortyfive Downstairs wedding.

I take so many couples around here, and it can't be overstated how beautifully soft and moody the light is around the structures themselves. Head down Treasury place and explore, it's all an easy and quick whip around, especially if you're then heading south to somewhere like The Deck at Circa.
Melbourne Treasury Building photo location on Google Maps.

2. Heritage Melbourne wedding location: Treasury Gardens
Just west of the Melbourne Treasury building, is the Treasury gardens. While the gardens themselves are beautiful and lush, what I personally prefer from this photo location is to use them as context against the treasury buildings behind it.

Walk about halfway up Treasury Place, head down the paths inserting themselves into the gardens, turn around, and you've got beautiful lush greenery depending on the time of year, with the incredible heritage buildings right behind you as the backdrop.
Treasury Gardens Photo Location Google Maps pin.

3. Urban wedding photo location: Collingwood back streets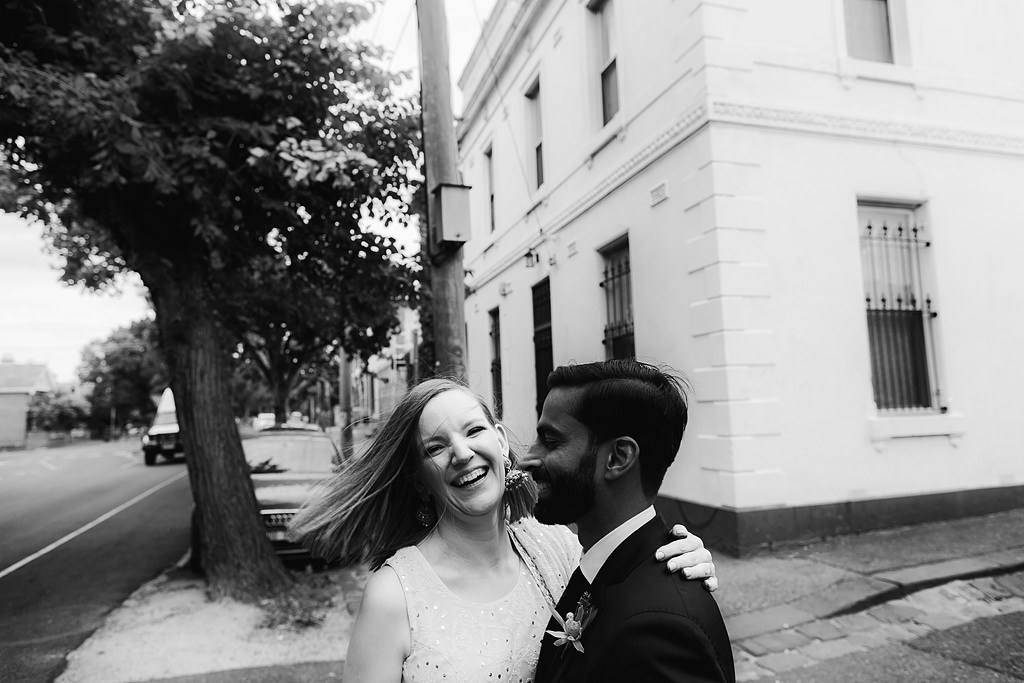 The Collingwood and Fitzroy back streets contain some of our earliest historic houses, since they were the first suburbs inhabited when Melbourne did, well, what we did back then, clear everything and everyone in sight and build lots of stuff.

As a result some of the architecture in the surrounding streets is particularly cute and interesting in equal measure, and make for some of the best Melbourne wedding photo locations.
As a general area, this is a personal favourite and one of the best places to take photos in Melbourne and a go-to for all the best wedding photographers doing their thing.
4. Historical wedding photo location: University Lane Carlton
Something more of a sleeper wedding photo location (ie: more classic, and not immediately striking), Carlton has some understated alleys that are beautiful soft backdrops without fighting the rest of the frame, and an ideal subtle place for Melbourne wedding photos.

Enormous stonework, subtle signage and fittings, the laneways here are worth exploring and just a small dash out of the Melbourne CBD.

One of the best lanes. Find this photo location on Google Maps here.
5. Urban wedding photo location in Melbourne: Thornbury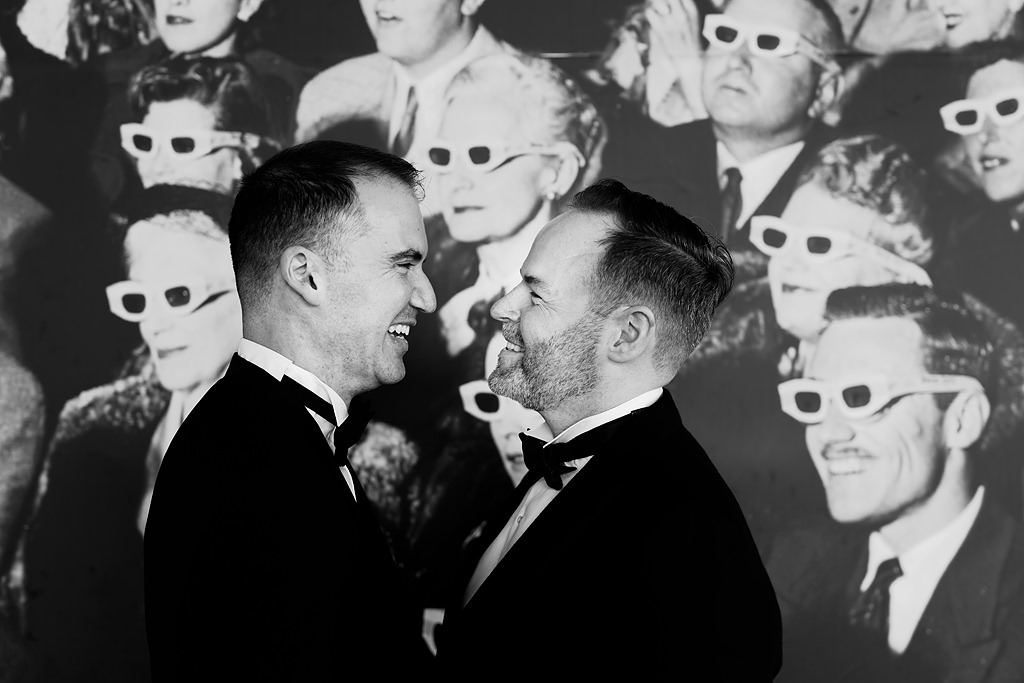 One of my favourite general areas in Melbourne, and a brilliant wedding photo location to explore. Further north we hit Thornbury, which has an endless amount of textures, historic structures, and all sorts of weird and wonderful signage and exteriors – oh, and Kenny Lover.

30 minutes here will be spent pretty quickly heading up, down and around High St, with art-deco design left right and centre.
See more of Sam and Pauls wedding on Instagram.
6. Art Deco wedding photo location in Melbourne: Northcote Town Hall
Find Northcote Town Hall wedding photo location here on Google Maps.
Northcote Town Hall is a must visit for simple Melbourne heritage vibes, beautiful columns and light. If Fitzroy Town Hall isn't accessible, then this isn't a compromise as a wedding photo location, and it provides the same kind of feel, shelter from rain, and beautiful soft light, with no chance of being disturbed, and super close proximity to bars, cafes, and all of the standard Northcote glory.
There's also plenty of beautiful textures and walls to find on Eastment st and Westbourne Grove, down the side of the town hall.
7. Colourful Melbourne wedding photo location: Fonda Collingwood
This one gets a header all of it's own. The incredible artwork on the side of the Fonda building is a joy to walk past and pop off some frames in front of, and one of the most distinct wedding photo locations around. Punchy, colourful, geometrically satisfying, this is located just off Smith st, with spades of bars and other historic streets right near it.

A great little stopover if you're getting hitched at Panama Dining Room or Rupert on Rupert.
Find this Collingwood photo location here on google maps.
8. Quirky Melborne wedding photo location: Portland Lane
I've had so many couples stay at the QT Hotel on Russel St, and turning just around to the right of it's entrance, down Portland Lane, is a no-brainer for some quick portraits when exiting the building to head to the ceremony.

The wall of the Portland Hotel is painted a rich black, and feeds down into deep bluestones below, creating something of an impossible infinity-wall, where it feels like the bluestone is a shelf at the edge of the universe. One of the more unique wedding photo locations in Melbourne.

As if we're about to lean into the ether, or into Gandalf's embrace, etc.
9. Green Melbourne wedding photo location: South Melbourne
Until fairly recently, sweeping sections of South Melbourne have somehow managed to mostly avoid being exploited by our general lack of regulation around architectural design for a suburb so close to the city, and so unlike other heritage suburbs, still has plenty of great things to explore without yet looking like a second-year students first foray into geometric design elements.

As a result, as well as easily feeling like it's a jaunt into the old world, the entire area around the Town Hall, Clarendon St, and industrial back areas have plenty of textures to explore, and is an ideal wedding photo location just 5 minutes out of the Melbourne CBD.
10. Urban Melbourne wedding photo location: Abbotsford
Abbotsford may just be our closest answer to anything resembling the back streets of New York or Brooklyn (see these Melbourne wedding venues). Abbotsford has it all: incredibly close proximity to Yarra Bend Park (which doesn't seem like it should or could sit so close to the city), old heritage streets, imposing industrial buildings, and everything in between. Abbotsford is a brilliantly diverse wedding photo location.

A 30 minute session in Abbotsford can get chewed up very quickly, and that's without stopping off at any of the beautiful little cafes littered around the place. One of the best photo locations in Melbourne, at just a short jump outside of the Melbourne CBD itself.
11. Jungle wedding photo location in Melbourne: Fitzroy Gardens
Looking at the map, Fitzroy Gardens almost sounds ripped out of a Tolkien book. The Faeries tree, Tudor Village, Temple of the Winds. These are all great, but the best parts of these gardens aren't etched on the map.

Enter from the midwestern paths along Lansdowne St, and some of the more incredible tree-tunnels are visible, then head further in to a couple of "secret" little jungle areas with tight greenery, stone stairs and more. Gorgeous wedding photo location resembling a jungle.
One of my favourite places for Melbourne wedding photos.
12. Classic wedding photo location in Melbourne: Carlton Gardens
Carlton Gardens join the Royal Exhibition building. Carlton Gardens are more known for the aisle of trees leading up to said building (and a water foutain) but the best parts of these gardens are actually around the northwestern edge of the exhibition building.

Architecturally there's a bunch of textural options around there, but what I like most is the setting sun against some of the smaller characterful pieces of garden around there.
Find this Carlton photo location on Google Maps here.
13. Unique Melbourne Wedding Photo Location: Prahran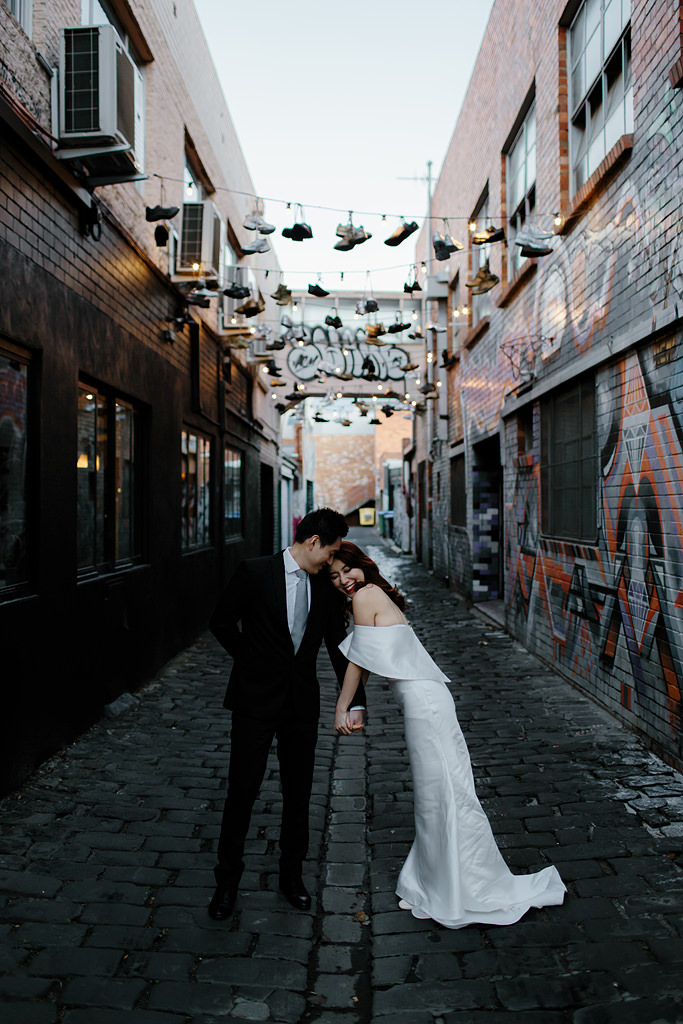 Prahran isn't necessarily the first place you'd think of when looking for the best Melbourne wedding photo locations, but when I lived there, I made a point of taking any couples eloping here from overseas there, for two reasons.

Firstly there's more than it's fair share of architecturally stunning historical charm, and secondly, while there's the allure of taking portraits in the CBD, in my opinion Prahran punches above it's weight, and saves all of the regular hassles associated with parking in the city itself, while allowing folks spending a little bit of time here to explore a neighbourhood they might have otherwise missed.
Also, don't miss this moody art-deco gem. Add Prahran to the list if you're planning a Melbourne City elopement.
14. Gritty Melbourne wedding photo location: Footscray
First stop from the Melbourne CBD as we head west, Footscray is a gritty gem, and enormously misunderstood suburb (especially from our dear friends of the east). All the right ingredients for a subversive photo location.

Footscray has buckets of charm in it's back streets, and as you head over to Seddon (i'd never heard of it either until I moved there), you're hit with some of the most incredible cottage-style residences you'll see in Melbourne.
15. Alley Wedding photo location: Melbourne Alleys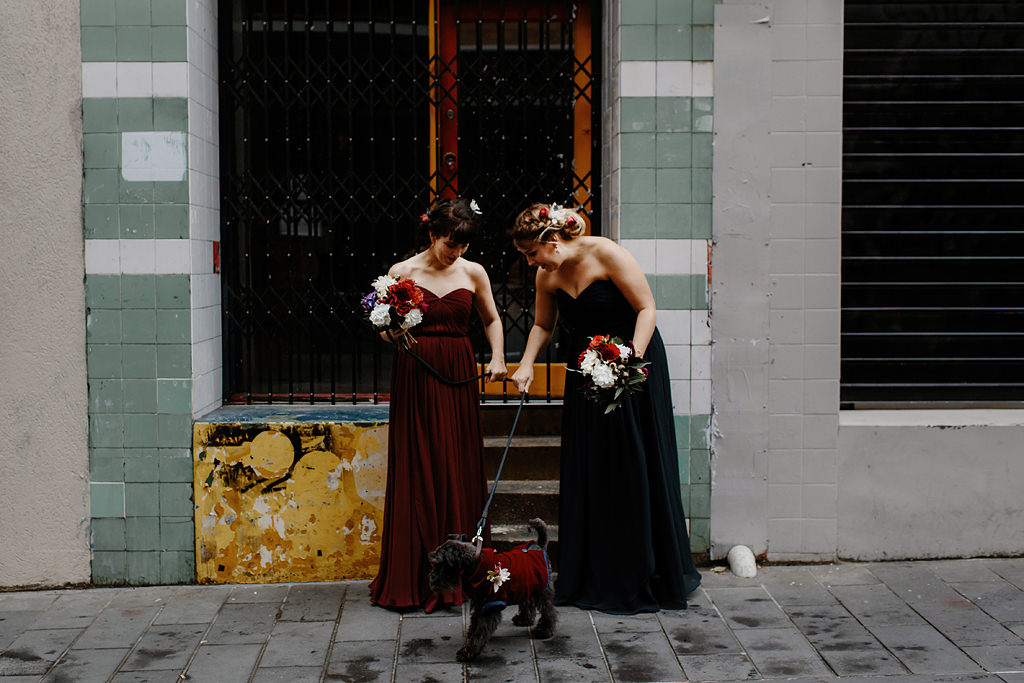 The pièce de résistance. Melbourne has bucketloads of beautiful alleys, and the main choices become things like how much heritage do you want, vs graffiti, vs tourists, vs calm.

All of the major alleys have their own character as a wedding photo location, and at any quarter of the CBD there's a good handful within walking distance, and are usually crowned as the best Melbourne wedding photo locations.

These aren't necessarily the "main events" here (sorry), i'm instead sharing some of my favourite Melbourne wedding photo locations containing simple light, and simple texture.
For more of my secret ones, keep an eye on my melbourne wedding photography workshops.
Love these Melbourne wedding photo locations? Hire me to photograph your Melbourne wedding
Briars Atlas – Wedding Photographer Melbourne – enquire