The Yarra Valley is one of the most totally majestic regions in Victoria, which you already know if you're planning a wedding out that way. Yarra Valley Wedding venues are places that celebrate the natural beauty of the area, as well as the unique food, wine, and accommodation.
Top 5 Yarra Valley Wedding Venues (in no particular order):
Read on to find out exactly why these 5 have made it to my list. Each one offers something quite different. I obviously love wedding venues that have unique photo opportunities and sublime backdrops, and we are not short of them here. I also love it when venues have really thought about the couple and their guests' whole experience, which given that the Yarra Valley is a little out of the city, is an important planning considerations. Whether that's offering a bridal day room, onsite ceremony and accommodation, or an award winning dining experience, it's those little extras that make your wedding in the Yarra Valley a brilliant experience for you and your guests.
This is a complete guide to having a wedding in the Yarra Valley that covers the very best venues available, accommodation for your guests, and extra things to do the day after.
As someone who grew up in the Yarra Valley, i've got a special passion for the are and it's a treat to lay out some of my favourite spots in the region. These days I photograph weddings in the Yarra Valley year in and year out, (but a couple of decades ago it was tearing around the streets on a BMX instead).

To either of those, it's got a special place in my heart and if it doesn't yet have one in yours, it soon will.
By choosing to have a Yarra Valley Winery Wedding, you can treat yourselves and your guests to a dreamy mini getaway away from the rush of the city, soaking up all of the culinary wizardry and hospitality from the region.
These Yarra Valley wedding venues are some of the best wedding locations Australia has to offer, let alone in Victoria. I've photographed a fair few Yarra Valley winery weddings in my time. They're stunning. The evening sun pirouettes through the vines, and if you're lucky, drops an incredible rainbow your way (looking at you, hills of Zonzo Estate).
There are an innumerable amount of Yarra Valley wedding venues to choose from, so I've compiled a short and sharp list from first hand experience for you to peruse and explore, sink your teeth into whilst navigating a latte like-say, etc.
Because this area of the world is so spectacular, i've also included some useful local insights to occupy yourselves with either side of your wedding day itself. It's all well and good picking a ceremony and reception venue but that's only half of the fun. Where will you get ready? Where will you sleep?
And.
Where will you cure the hangover?
I've looked into some dazzling accomodation for you and your guests to lay your heads. Being secluded and private on a vineyard is one thing, but people not being able to find the place or their way back to bed is another!
The accommodation I've picked is local to your potential venues so people aren't spending too long travelling before or after. I've looked at a range of affordability too so everyone can enjoy this wonderland. It's little things like this I find help the day run smoothly and keep spirits high.
Remember, there is going to be a lot of sore heads the next day so I've snuck in a few great places to catch your first married bite the morning after too.
The Best Valley Wedding Venues
All of these venues are pretty marvellous in their own way, so these are listed in no particular order. When you go and visit them you'll know which one is the one, and I recommend booking a meeting with their events coordinator to show you around. The awesome crew that run them, the wild scenery, the charming ceremony spaces and the versatile reception areas will all ring true with you in one way or another.
1. Yarra Valley Winery Wedding Venues: Zonzo Estate Yarra Valley
I'm kicking off my list with these maestros because this is a venue for the photos and the food! My two pleasures in life. I remember turning up at the Zonzo Estate in the Yarra Valley for the first time and being pretty knocked out by it's rolling hills. Set in an old milking barn the emphatic main building with sloped roof, huge glass panelling and sleek interior design makes for an idyllic modern yet traditional setting. They have a particularly cute outdoor area under festoon lights where newlyweds do the 'zonzo twirl' contrasted by the evening's sweeping landscape.
A bonus of this estate is that you can opt to have your actual ceremony on site with a choice of three glorious spaces overlooking the rolling hills. No chance of anyone getting lost en-route to this reception. The three options give you the chance to express yourself that little bit more, and make for a venue that you can make your own.
The real dark-horse of this place though, the gem of Zonzo Estate, is their Italian dining experience. Let's face it, no one wants shit food at a wedding (this can't be drilled home hard enough ahead of time). If guests taste buds are being tantalised, then the vibe is too (if you're looking at a venue that doesn't have onsite catering, make sure you check out this post about the best wedding caterers in Melbourne). People need fuel for the dance floor! Zonzo Estate have won several awards for their wedding restaurant reception so it's official that their food is to die for. They've been in the business over a decade and know what they're doing. Zonzo have their own wedding coordinators on site to help you make your Yarra Valley winery wedding dreams come to life in the most seamless and stress-free way, and they run like clockwork.
Intermission: be sure to check out my larger post on Zonzo Estate.
I love the shit out of being a part of couples wedding here – beautiful industrial structures juxtaposed with all things rustic, and a moving platter of beautiful vibes all on the one property. While you're on the Zonzo train, you might also like these beautiful rustic wedding venues in Victoria.
Zonzo Estate Yarra valley: wedding venue specs
Zonzo Estate wedding venue capacity: 140 guests seated
Zonzo Estate Website: zonzo.com.au/weddings
2. Yarra Valley Wedding Venues: Stones of the Yarra Valley
Beforehand: be sure to check out my post on Stones of the Yarra Valley.
Stones of the Yarra Valley had cemented itself as a bit of an icon of the region, and is one of the busiest venues going. What this means for you, is that their wealth of experience in running lush, tightly run events, means that everything goes to plan. Their owner and sometimes coordinator, Vonnie, is just as much an icon of the industry as her venue.
It's enormous grounds offer a variety of spaces to accommodate the day to your needs. There are several 19th century restored buildings with pristine gardens and vines, it really feels like being in Tuscany. These guys can host your whole day here or they even have sister smaller venues to host smaller reception only gigs. Whatever you want, the Stones of the Yarra Valley can deliver.
Let's start with the stunning on site 'Chapel'. It's simple and elegant, the high ceilings and handcrafted woodwork make an alluring place to tie the knot in front of your nearest and dearest. After you've become newlyweds you can join your guests for drinks and little bites in the 'Dairy'. I love this part of the day, there's so much excitement and a proper buzz in the air. Go and give your guests a twirl in all your magnificence and lap up the love. The Stones of the Yarra Valley have absolutely smashed it when it comes to Yarra Valley wedding reception settings. Every seat in the house has a spectacular view of the scenery, all hosted from the sensational 'Barn'. They've elevated the ceiling so it's bright and airy in the daytime. They've got exposed wooden beams nestled against panoramic windows and impressive foliage externally. At night they have festoons and soft lighting for you and your guests to jive under, and for me to take some fantastically lit photos!
After all the fun is over, you can stagger down the road to the boutique 'Farmhouse' accommodation. I love onsite accommodation, it just takes one less logistical step out of the equation! Easy! Another logistical added extra these guys have is a bridal preparation room. Filled with mirrors and natural light, you and your party can be on site and get some extraordinary pre-wedding shots! Winner! Read below for more on their sister venues.
Stones of the Yarra valley: wedding venue specs
Stones of the Yarra Valley wedding venue capacity: 180 guests seated
Stones of the Yarra Valley Website: stonesoftheyarravalley.com
3. Yarra Valley Wedding Venues: Yering Station
Yering Station is one of the oldest wineries in the Yarra Valley. This wedding venue is truely and naturally ceremonial. This quintessential ceremony under the trees could be in Italy or France. The orchard trees are ordered yet natural and needs minimal decoration (and the coverage stops everyone from squinting).
Walk yourselves across the grounds toward the impressive main building. The incredibly serene reception room and scape are the epitome of elegance. The architecture oozes class and the grounds are ornate and mature. Everywhere you turn there is a photo opportunity. I love taking the couple away for their personal shots around the grounds, there are some really delicately lit hidden spots for those golden hour frames that are just priceless. This place really is a jewel.
Lavished in history and grandiose views you just have to be there to soak it all up. The huge panoramic windows of the reception room mean you can be protected from the elements but cannot get away from the endless views. Every person in the room will be able to see them from any seat in the room. The exposed stone accents and overhead wooden beams look gorgeous in photos. They've got so much space for you and your guests to prance around in, it's ace!
The little wins here include a bridal room which is light and airy, a wedding coordinator to help you from start to finish and get your guests in the right place at the right time and an unexpected quirk of a personal sommelier to match your menu to the gorgeous wines they have there! It's not only the manicured grounds that are totally phenomenal, even the food looks incredible and sits perfectly on the long white tables. Have a look at their wedding packages here.
Also: check out my lengthy post on this Yering Station wedding.
Yering Station Yarra valley: wedding venue specs
Yering Station wedding venue capacity: 150 guests
Yering Station Website: yering.com
4. Yarra Valley Wedding Venues: Immerse Winery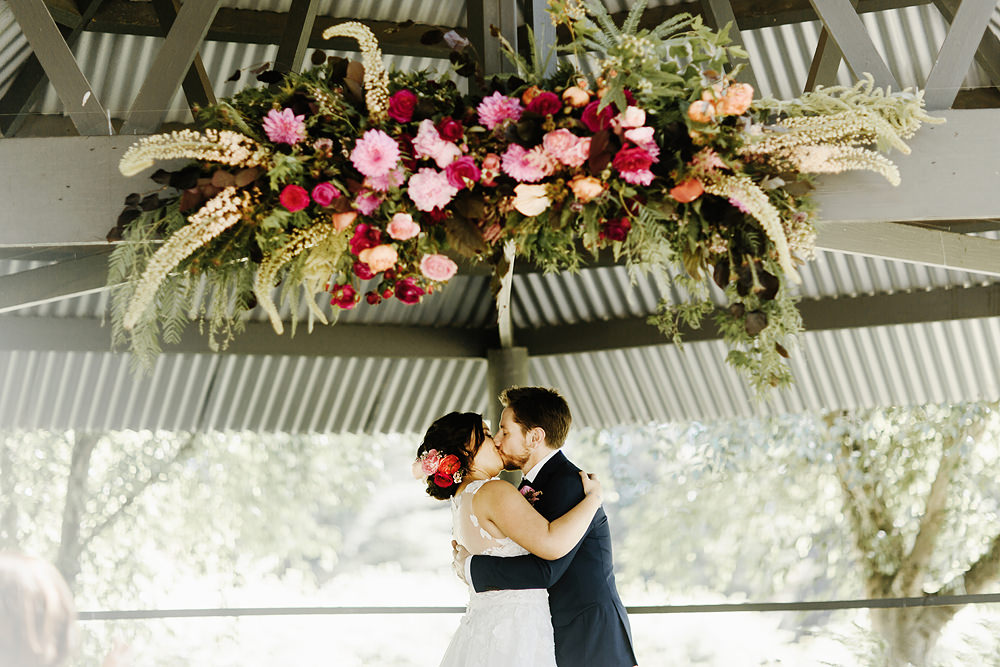 Before you dive in: check out this Immerse Yarra Valley wedding.
As soon as you arrive at this cataclysmic location you are wowed by one of the chapels (yes there are three options!). The 'Vineyard Chapel' has floor to ceiling striking windows looking out into the Sauvignon Blanc vines that draw you in. Then once you're inside they frame the landscape astonishingly. This chapel keeps the elements out whilst still letting maximum nature in.
Their next option is the covered outdoor 'Garden Chapel'. This is the perfect balance between inside and outside ceremonies. You'll be wed in front of the most pristine ornamental lake and gardens. The photo opportunities are exquisite, believe me! However, if you want to go fully al fresco then their final ceremony option is 'The Paddock'. You and your guests and nature, nothing else. I think it's great when a venue has options, it really gives you a chance to customise your day to how YOU want it. It means that even if you've been to a wedding there before you can make yours different.
As I mentioned before, being in one place for the full day is a big bonus. This divine location offers 20 on site rooms and a stella restaurant alongside their multiple ceremony options. Their elegant and spacious bridal suite can be hired for you and your squad to get ready in before and you and your new husband to retire to after. No need to spend on transport, more time for epic dance moves! Winner! The 20 rooms also get complimentary breakfast in the morning which is pretty peachy too!
Finally, and probably most importantly, the main reason I love Immerse Yarra Valley wedding venue is because the family that owns it are stupendous. They are warm, welcoming and wonderful from start to finish. Making sure you, me and your guests have everything we need and more. You can't buy that. There's nothing worse than feeling stressed and disorganised with a wedding. Whether you're having 20 or 220 guests, there is absolutely no chance of stress when they are involved. This is probably why they are so popular and highly rated all the time.
Immerse Yarra valley: wedding venue specs
Immerse Yarra Valley wedding venue capacity: 220 guests
Immerse Yarra Valley Website: immerse.com.au
5. Yarra Valley Winery wedding venue: Vines of the Yarra Valley
Rounding up this list is the incredible Vines of the Yarra Valley!
Vines of the Yarra Valley venue capacity: 150 guests
Vines of the Yarra Valley website: vinesoftheyarravalley.com.au
Small Wedding Venues Yarra Valley
All of the wonderful venues listed on this page can cater to large and small weddings, whether it's 20 guests, 30 guests, 40 guests, 50 guests, 60 guests, 70 guests, all the way up to 100 guests or 150 guests.
Wedding Accommodation for your Yarra Valley Winery Wedding
So you've chosen your beautiful Yarra Valley winery wedding venue and now you need somewhere for you and your lovely guests to sleep. I've had a little think for you, from personal experience and from extensive industry research I've compiled a few ideas.
When choosing where to stay you probably should think about being well rested and within a decent distance from the Yarra Valley wedding venue you've chosen so that…
a) you're not late
b) you can get to bed easily after the most magically mental day of your life!
You also need somewhere that has enough room for you to get ready comfortably and that will make you feel special and relaxed on your first night as a married couple! Whoop! (The room needs to be bigger than the bed is what I'm saying). This is surprisingly hard to find sometimes. If you can get on-site accommodation then this takes out a lot of logistical planning and time from the day but not all winerys offer this. It's more important to be in love with your venue than go for something less to your taste just because they have accommodation.
A great and often overlooked option is to get an AirBnB. There are some pretty jazzy options in this area. You can hire a huge one between you and your closest friends and family or even just a secluded private one for your first few nights as a Mr and Mrs! Make sure there is enough room to get ready in with lots of natural light and mirrors if you're hiring it for the night before.
This 'Rustic Luxury' 6 person house is in the vines and is only a 10 minute drive from Stones of the Yarra Valley Winery. Or why not get yourself a secluded villa with a pool for you and the girls to enjoy before the big day? If you really want to be in nature and away from it all then Olinda Yarra Cottage offers a cute farm stay option for up to 6 people and has beautiful farm views for the pre-wedding photos and for soothing weary heads.
It's your big day, spoil yourself! The Kangaroo Manor is a spacious, modern, wooden, secluded, sophisticated, mega-mansion with a pool in the hills. It sleeps 7 people and it's about 35 minutes from the wineries I've listed hidden down a farm track. It is honestly breathtaking! You get so much more space for your money in these kinds of places rather than in hotels.
If you'd rather have most people in the same place then there are a plethora of really bloody nice hotels in the area too. The Chateau Yering Hotel is a slice of renaissance style luxury if that's your thing. This is only a short walk away from the Yering Station Estate and is commonly used as their accommodation option. Their good relationship with the winery can really help with organising things too. Check your dates for this one though as it can also be used as a wedding venue because it's so suave!
Healesville Garden Accommodation Houses have a fully functional ten bedroom house that can sleep up to 22 people. It's only 15 minutes to the wineries and is ideal for keeping the family all in one place. Renting somewhere like this can be a very cost effective accommodation option and be a nice way to spend a bit of quality time with people around all the commotion of the day.
The morning after the night before your Yarra Valley Wedding
So you've picked your glamorous winery, you've sampled your delicious menu, you've booked your mother in law into a delectable hotel room. Now those hangovers need a good feed! Post wedding day breakfast spots can be fancy or laid back depending on your style. It's a great time to have a giggle and swoon over the previous day's happenings. How did Uncle Steve end up sleeping under the stars? How did your dress get so muddy? How fucking colossal was the entire day!? I live for this time. The pre-wedding stress is over, the months of anticipation have climaxed and you can now sit back and bathe in your honeymoon period. You might want to have a little family group get together or meet up with your old pals from school you haven't seen for years. Whatever or whoever you're eating with, you want it to be tasty and there to be (lots of) amazing coffee!
I've picked out 3 of my favourite brunch spots in the area where you can debrief with your nearest and dearest.
I know we've spoken about these guys already but they offer the full package and they have 5 insane venues to host your brunch the next day! And if they've already looked after your actual day then the coordination for the next day will be seamless. Talk about tasty convenience!
'The Barn' can seat 200 people so you can really continue the wedding properly the next day! It's where you'd usually have your reception so guests will be familiar with where to go and you can all sit in the same place to avoid confusion.
'The Stables at Stones' can seat 63 people which is perfect for those more intimate weddings. It's 19th century chic at its finest. Exposed brick walls, huge wooden stable doors and manicured hedges are just perfect for an elegant and relaxed meal with friends.
'No.7 Healesville' has epically high ceilings, sliding barn doors and walls of wine barrels which look really fucking cool! This is a spacious and airy location for 53 guests. Why not have next day tapas?!
If you're staying at the Stones of the Yarra Valley accommodation you'll find the Meletos locations very convenient.
'The Warehouse at Meletos' also seats 63 people and is a more modern option. Huge glass windows in a renovated building with chandeliers and a bar. This is a more relaxed vibe and can even be set up as a standing cocktail/mingling style if you want.
'Meletos Cafe' is its own entity. Very popular cafe priding itself on using local produce to create very tasty food. They are very accommodating vegan, vegetarian and gluten free without compromising quality. You can choose a more formal sit down or a sharing option.
Modern and mental food and design. Their eggs are fluffy and their sauces are swirly. They've got fruit bowls, avo smash and creamy dreamy coffee. If you want brunch done well these are your guys. They've got all the eggs and avo you can shake a stick at. They've got big breakfasts, little breakfasts and even a glass of bubbly if you're not quite finished celebrating yet! Vegan and gluten free friendly options all over the place. Something delicious for everyone here. Their freshly made juices and milkshakes could just be the antidote you're seeking. Yum! Take a look at their menu here.
An Alice in Wonderland inspired high tea experience! This isn't your usually prissy cucumber sandwiches, these guys have taken afternoon tea to the next level. Get ready to go down the rabbit hole to find extraordinary cakes and bites swimming in smoke and mirrors. I'm talking about 'Korean Fried Chicken', waffles, and 'Mad Hatters breakfast' platters followed by 'tweedle wheels', 'queen' of hearts strawberry mousse and 'Alice in Wonderland' lemon and pineapple desserts. Accompanied by hypnotic 'chess board coffee' boards, 'love potions' and 'white tea and butterfly pea' lattes! They have some ace vegan and veggie options too which is often hard to properly accommodate. Have a look here to be sure to keep the giggles going into the next day!
Final Planning Advice for your Yarra Valley Wedding
Planning a wedding is a time to let your fantasies take control! Yarra Valley is an ideal location that can help your dreams for the day come true. The best weddings combine the couples personality to make it feel like it's their own. Keep searching and don't settle for something until it feels right!
What I love about our industry is the amount of raw inspiring creativity people bring to what they do. I have worked with some phenomenal wedding super stars in my time and I'm lucky enough to stay in touch with all of them. Looking for something in particular?
Drop me a message and I can send you some suggestions. You could also check out my other blog articles for more wedding inspo! I've recently released articles on unique florists in Victoria and music ideas for small weddings!
Book me to photograph your Yarra Valley Wedding
Briars Atlas – Yarra Valley wedding photographer – make an enquiry
Beyond Yarra Valley Wedding Venues
For more inspiration in Victoria outside of the Yarra Valley, be sure to check out this Sault Daylesford wedding, Tanglewood Estate on the Mornington Peninsula (head here for a roundup of even more Mornington Peninsula wedding venues), and this incredible rustic Castlemaine wedding venues.
Small wedding venues to check out away from the Yarra Valley