Best Small Wedding Venues in Melbourne: handpicked by Briars Atlas photography
Melbourne Small Wedding Venue: a venue comparison chart
A comparison chart of the best Small Wedding Venues in Melbourne
For various reasons, we've enjoyed seeing an explosion in beautiful intimate small weddings (or, micro wedding packages Victoria and beyond, or, straight up elopements), which means you're probably looking for small wedding venues in Melbourne: and if we do small venues as well as we do croissants or… anything, really, that means that this won't be a compromise, but instead, something awesome.
If there's one thing i've noticed in photographing celebrations of all shapes and sizes, there's always a certain brilliance in intimate gatherings that just doesn't exist in larger ones, and having a small wedding in the short term still means you can have a larger celebration down the line, with less planning infrastructure.
Pair that with the classic Melbourne tendency to get creative with things, and it makes for a brilliant range of Small wedding venue options. If you're looking for a cheap wedding venue Melbourne or beyond, dialling things down and hosting a smaller wedding with a more intimate guest list can be one way of doing that. (See also: small Yarra Valley Wedding venues).
So while we have to wait a little while to have big parties and weddings again, here are some of my favourite Small Wedding Venues in Melbourne, for intimate weddings, micro weddings and more.
1. Unique small wedding venues Melbourne: The Altar Electric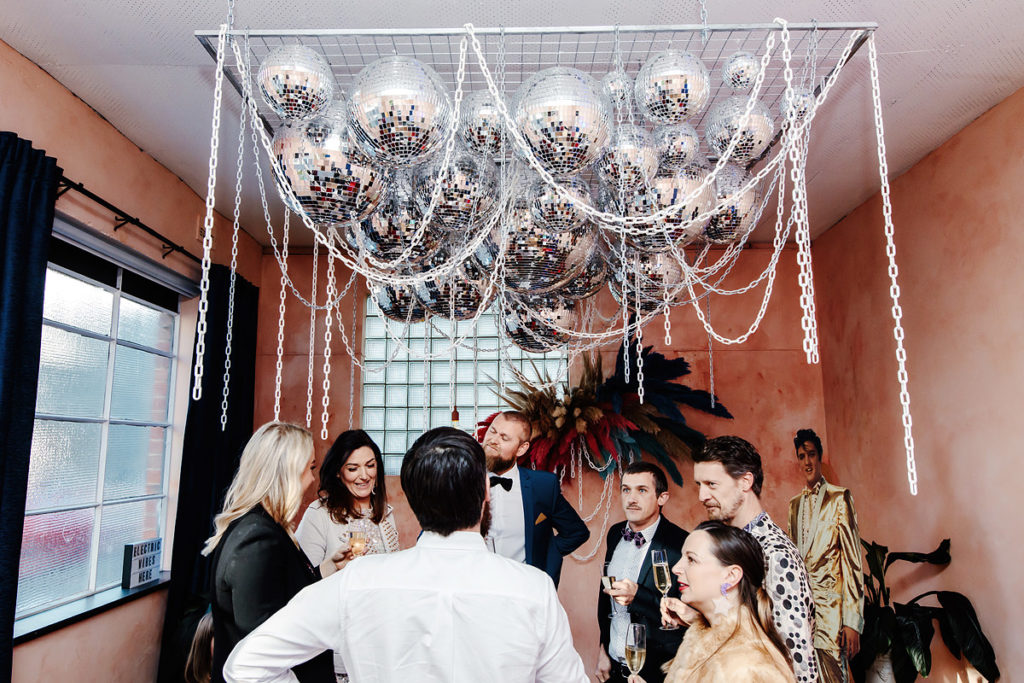 Ahead of the curve in the small-wedding game, The Altar Electric has been championing the power of intimate weddings for years, and is the brainchild of The Wedding Anarchist, Sarah Dobson, and Anthony Cribbes.

One of the more characterful small wedding venues in Melbourne and nestled in the industrial back streets of Collingwood, The Altar Electric warehouse wedding venue can cater for weddings up to about 30 people, and right down to a cracking shotgun-wedding with just the two of you and your witnesses: either way, it's one of the few elopement or wedding venues under $100 per person out there.

To top it all off, they just upgraded their space, thanks to the incredible styling handiwork of local design and party heroes, Good Day Club.
So whether you've got a small elopement, 5 guests, 10 guests, 20 guests, 30 guests, 40 guests, 50 guests, 60 guests, or 70 guests (I think that's where they cap out) this brilliant peach palace is a great place to have a small wedding, and doubles as one of the more affordable wedding venues melbourne has to offer.
Enquire about their Collingwood Small Wedding Packages
The Altar Electric website: www.thealtarelectric.com.au
The Altar Electric wedding gallery: Altar Electric showcase
Venue size: Intimate, from 2, up to around 50 guests
Small Wedding Venue Address: 81 Rupert St, Collingwood VIC 3066
2. Affordable small wedding venues Melbourne: I Do Drive Thru
When Covid19 hit full-steam and we were locked down to having weddings and elopements with a maximum of 5 people in total, local genius Mel of The Ceremony Store came up with a hit elopement concept that quickly spread throughout Australia, and right over into the USA: I Do Drive Thru.

I Do Drive Thru gets you married in a whirlwind elopement ceremony from the safe confines of your car, or anywhere in a public space: just you two, and the very closest of your crew. Get it said, get it done, and get away to celebrate what matters: just the two of you. Given that, this also technically makes them the most affordable wedding venue melbourne has available.
Don't be mistaken by the name: while I Do Drive Thru might sound like, it's a drive-thru thing, that's only one side of what it can be. I Do Drive Thru is a small wedding ceremony and elopement planner, done anywhere you like, in exactly any style of intimate celebration that you can imagine. From loud, to quiet, to classy to crazy, and everything in between. If you're looking to elope Melbourne or beyond, be sure to check these legendary lunatics out.
Read more about I Do Drive Thru here, each out to them to see if they're the right fit, and ask about their small wedding packages Melbourne and beyond (they are now based in a tonne of cities). And if you loved this incredible dress, check out this lis of the best unique wedding dresses in Melbourne.
Enquire about their Drive Through Wedding Packages
I Do Drive Thru website: www.idodrivethru.com.au
I Do Drive Thru wedding gallery: Drive Through Weddings
Venue size: Scaleable, from 2, up to as many guests as you like
3. Intimate Wedding Venues Melbourne: Rupert on Rupert
One of the best small wedding venues in Melbourne or places to elope in industrial surrounds, Rupert is the hidden gem of Collingwood, supporting both large wedding celebrations (80 guests, 90 guests, 100 guests and beyond) and smaller intimate ones (10 guests, small wedding venues for 20 guests, 30 guests etc) via clever use of one or more of it's three areas. Rupert isn't necessarily known as a Small Wedding Venue in Melbourne but is super unique in how it can be scaled to suit any size celebration.
To see a larger wedding in full with more examples of this incredibly stylish small wedding venue, check out this Rupert on Rupert wedding, and you'll see why it's one of the best intimate wedding venues Melbourne has on offer.
Enquire about Rupert on Rupert Wedding Packages with their wedding and event planner
Rupert on Rupert website: www.rupertonrupert.com.au
Rupert on Rupert wedding gallery: Rupert on Rupert Wedding
Rupert on Rupert wedding capacity: 40 – 200 guests
Small Wedding Venue Address: 73 Rupert St, Collingwood VIC 3066
4. Small Wedding Venue: Two Ton Max
Two Ton Max is a repurposed, blank-canvas warehouse wedding venue in the heart of North Melbourne. One of the most simple wedding venues melbourne has on offer. Two Ton Max can support elopements and small weddings of all sizes, but with the way it's space can be compartmentalised, it is ideal for small Melbourne weddings of 20 people, up to 50 people and beyond.
Enquire about Two Ton Max Wedding Packages
Two Ton Max website: www.twotonmax.com.au
Two Ton Max wedding gallery: Two Ton Max wedding
Two Ton Max wedding capacity: 40 – 300 guests
Small Wedding Venue Address: 124 Langford St, North Melbourne VIC 3051
5. Small Wedding Venue in St Kilda: The Deck
The Deck in St Kilda might not be the first thing that comes to mind when thinking about a small wedding venue, but the unique, angular layout of the internal space, as well as the L-shaped external deck, make it ideal for creatively arranging it for a small wedding. With so much natural venue detail both inside and out, there's plenty to keep the senses entertained without having to fill the space with 150 people.
Not only that, but The Deck has several other little spaces that can be used. Just ask.
Want to see The Deck in action at a wedding? Then check out the deck wedding of Emily and Tony.
Enquire about Prince The Deck Small Wedding Packages with their event planner
The Prince Deck website: www.theprince.com.au/prince-deck
The Prince Deck wedding gallery: The Deck Wedding
The Prince Deck wedding capacity: 20 – 450 guests
Small Wedding Venue Address: 2 Acland St, St Kilda VIC 3182
6. Alternative Small Wedding Venue idea: The Family (or friends) property
Tess and Sam, married on their family property in Australia's Kangaroo Valley.
If larger wedding venues aren't a part of the plan and you're looking towards an elopement or intimate small wedding, sometimes it's best to look inwards to what's closest: our own family property. With some thoughtful catering and preparation, having a wedding at your home makes for an intimate experience, and something potentially more meaningful when you look back at your photos.
The only concern usually had around having a wedding on family property, is that of cleanup! But keep your crew small, keep the food simple, and it's a great way to have a meaningful celebration where the only timeline you're working to is your own.
7. Micro Wedding venue: Air BnB
An Air-Bnb has all the intimacy and timeline benefits of hosting your elopement or small wedding on your own family property, with the added bonus of being able to get married at any spectacular geographic location of your own choosing. Select a location with adventure nearby and a good kitchen within.
Here, Sarah and Simon had a beautiful small elopement ceremony at an Air-Bnb in a spectacular piece of nature, before enjoying a beautiful afternoon with 4 of their closest friends, and an evening of home cooked meals and games. If you're looking to elope Melbourne or beyond, be sure to check out some of the beautiful nearby Air BnB's for your small wedding.
Sarah and Simons Australian wedding was featured on the wedding blog Rock n Roll Bride, so head over there for more of their story.
8. Unique Small Wedding Venue Melbourne: Kenny Lover
I left this one last, because it leads into some thoughts written under it, so read on. Kenny Lover is a brilliant little Thornbury shop, offering chips and ice-cream.
Together at last.
Not only that, but they have the most jaw-droppingly beautiful interior. If you don't believe me, head over and check out this Kenny Lover wedding, where Paul and Sam, Thornbury locals, headed there after having an intimate small wedding ceremony at their home. Fabulous, colourful elopement venue in Melbournes inner north. An elopement or small wedding that has Kenny Lover involved somehow will make for an incredibly unique wedding experience in Melbourne.
9. Small Rustic Wedding Venues: Glasshaus Inside and Glasshaus Outside
Glasshaus Inside and Glasshaus Outside are two brilliant small wedding venues in Melbourne, sitting just outside of the Melbourne CBD, tucked in Richmond. Glasshaus Inside doubles as a warehouse jungle, and Glasshaus Outside swaps the warehouse vibe for an aviary. A small wedding venue in melbourne for folks seeking a grittier feel where nature is a part of the celebration. Imagine a grand ballroom, with the roof ripped out, and a glorious jungle spread around it's interior.
That's about right.
Enquire about Glasshaus Small Wedding Packages
Glasshaus Richmond website: Glasshaus Website
Glasshaus Richmond wedding gallery: Glasshaus Wedding
Glasshaus Richmond wedding capacity: 20 – 140 guests
Small Wedding Venue Address: 44 Cremorne St, Cremorne, VIC, 3121
10. Small Warehouse Wedding Venue: Gather and Tailor
Gather and Tailor aren't the smallest wedding venue in Melbourne (that crown probably goes to the Altar Electric), but their dual warehouse spaces, particular warehouse one, are blank-canvasses that can be arranged any way you like. The incredible, forward thinking folks at Nudo run Gather and Tailor, and their expert planning team can host you a unique small wedding at their venue.
Gather and Tailor have both Warehouse One and Warehouse Two – beautifully distinct urban spaces that can host weddings large and small.
Enquire about Gather and Tailor Wedding Packages with their event planner
Gather and Tailor website: www.gatherandtailor.com.au
Gather and Tailor wedding gallery: Gather and Tailor wedding
Gather and Tailor wedding capacity: 40 – 200 guests
Small Wedding Venue Address: Unit 11/41-59 Sims St, West Melbourne VIC 3003
11. Small Art Deco Wedding Venue – Melbourne Town Hall
I feel this is generally overlooked when folks are looking at the small wedding venues Melbourne has to offer, but if you know what's what, you know that a classic heritage environment is a beautiful surrounds to have a celebration in, and just as good to dress up in your own way or with the hand of a great florists (check out the best wedding florists in Melbourne). The Melbourne Town Hall is a beautiful, ambient space, protected from the weather, and perfectly sized for a small wedding.
Enquire about Melbourne Town Hall Small Wedding Packages with their event planner
Melbourne Town Hall website: Wedding information
Melbourne Town Hall wedding gallery: Coming shortly, check back soon
Melbourne Town Hall wedding capacity: 20 – 400 guests
Small Wedding Venue Address: Small Wedding Venue Address: Unit 11/41-59 Sims St, West Melbourne VIC 3003
12. Small Alternative Wedding Venue – Brunswick Mess Hall
One of the great joys of this Covid business wrapping up will be seeing the best small wedding venue in Brunswick, the Brunswick Mess Hall, back in action. An incredible mixed-bag of design sensibilities that works a treat, and every time i've been there photographing a wedding, the space has been taken over in a unique and different way.
Enquire about Brunswick Mess Hall Small Wedding Packages
Brunswick Mess Hall website: www.thebrunswickmesshall.com.au
Brunswick Mess Hall wedding gallery: Kirstyn and Nicholas
Brunswick Mess Hall wedding capacity: 20 – 400 guests
Small Wedding Venue Address: Small Wedding Venue Address: 400 Sydney Rd, Brunswick VIC 3056
13. Small Blank Canvas Wedding Venue – The Wool Mill
Nudo, owners of The Wool Mill (a grand ballroom – but industrial style), say they run the best wedding planning service in the world, and given how well oiled their machine is, that statement is about on-point. Nudo look after all the moving parts of your wedding, and as well as Gather and Tailor (see point #9), they also have Brunswicks The Wool Mill in their venue stable. A wonderful blank canvas, modern small wedding warehouse venue.
Enquire about The Wool Mill Small Wedding Packages
The Wool Mill website: www.thewoolmill.com.au
The Wool Mill wedding capacity: 20 – 200 guests
Small Wedding Venue Address: 161 Donald St, Brunswick East VIC 3057
14: Micro wedding venue: Small Garden Wedding Venue
Not a venue as such, but Picnic Styling Co must be included here. If you're looking for a brilliant small wedding experience that you can enjoy anywhere out in public or indoors, you must check out the popup Picnic Styling Co. Picnic Styling Co create bespoke picnic experiences for any number of guests, brilliantly styled with no work to do by you. Turn up, have fun, walk away, and Picnic Styling Co take care of the rest.
Enquire about Picnic Styling Co Small Wedding Packages
Picnic Styling Co website: Picnic Styling Co Website
Picnic Styling Co wedding gallery: Picnic Styling Co Wedding
Picnic Styling Co wedding capacity: 2 – 40 guests
15: Small Venue for Weddings idea: Your Backyard
Sometimes the goodness is right in front of you: get some food-trucks or a Paella station, and host the party right at home. Check out this Porch article on Backyard Weddings.
One more elopement Small Wedding Venue idea:
When we think about it, there aren't that many mandatory moving parts to a wedding: you need a Melbourne Wedding Celebrant to take care of the papers and the ceremony, but really, the rest is up for grabs. One thing thats come out of the Covid pandamic, is a general willingness to be fluid and break new ground from both wedding vendors and small business in general.
Why do I say this? Because if you're looking for a small wedding venue, consider what it would look like, to simply plan to have it in your favourite cafe, restaurant, take-away place, or any other business. Literally.
All you can do is ask: the Melbourne Small Wedding Venue idea that takes charm, optimism (and a dash of curiosity)
So with all that in mind, let me present this little idea: make a list of places that are meaningful to you: cafes, take-out shops, or even shops that sell knick-knacks, books, or anything else under the sun. A wedding ceremony doesn't need to be an hour, and you don't need to have your wedding ceremony in a place that can also feed any guests you have present.
Spend every Saturday morning in that quiet, beat-up cafe around the corner that no-one knows about? Ask them if you can sign the papers and say some words in there, and ask them what they'll charge for the honour (they've probably never been asked).
The idea of "what is a wedding venue" is going to change pretty dramatically, as we change our idea of what a wedding is.
So make a list of bucket-list places that are either meaningful to you or quirky in their own right, and just give them a call! You might find that they are actually incredibly receptive to the idea of having a ten minute ceremony in their space where they get some cracking photographs of it for themselves afterwards too, and there's something extra special about making that commitment in a meaningful space.
We see it all the time with the portrait part of the day, with brilliant wedding portraits captured in cafes and thrift shops, so why not the ceremony itself?
Everything can be a small wedding venue, if you're creative enough.
All you can do is ask.
Other Small Wedding Venues in Melbourne
While we're dealing with only having small gatherings, many of Melbournes most incredible venues are able to scale themselves down to accommodate a more intimate wedding.
To discover a whole lot of other options, including some larger ones to keep in mind for when your community can all celebrate together again, here's a list of incredible Unique Melbourne Wedding Venues, or further out on the coast, check out these Mornington Peninsula wedding venues.
Looking for a large venue? Check out their Indian wedding reception.
Elopement Venues in Melbourne
If you're hosting an elopement rather than a small wedding, you're probably the type of person that's less about the full theatrics about a wedding, and more about enjoying an intimate space with just your partner and maybe a friend or family member or two. Many of the venues on this page are suited to small weddings, but also consider that if you're planning an elopement, you can really twist it however you want.
For example: while Rupert on Rupert is more suited to medium and small weddings, it doesn't mean you can't sign your papers nearby in a small elopement ceremony, and then head to Rupert to enjoy some drinks and a meal together. To craft a bespoke elopement experience in Melbourne, also be sure to hit up I Do Drive Thru (who plan intimate elopement ceremonies anywhere you can imagine, not just from the car as their name might imply), or even reach out to a Melbourne wedding celebrant as they are always more than happy to take more of a hand in crafting you a brilliant Melbourne elopement experience.
What is the best Small wedding venue in Melbourne?
My personal vote goest to Rupert on Rupert, but here you can also find 20 of the best Small Wedding Venues in Melbourne.
How many guests should I have at my small wedding?
A Small Wedding can have 5 guests, 10 guests, 20 guests, or 30 guests, but any more and it can become something larger and less intimate.
What are some more small wedding ideas?
It's hard to go past the brilliant Picnic Styling Co, who will setup your Small Wedding anywhere in Melbourne, leave you to celebrate, and then come and pack it all up for you.
How much does a Small Wedding cost?
If you carefully consider the style, wedding catering, and length of your small wedding, you can easily host your wedding for under $100 per person. Reach out to an incredible Small Wedding Planner such as Will and Jac or Popup With Style for assistance on planning your wedding budget.
Where can I find small wedding packages in Victoria?
To find Small Wedding Packages in Victoria, you should make an enquiry with the best small wedding planners and venues: The Altar Electric, I Do Drive Thru, and Picnic Styling Co. Each of these services can help you plan your small wedding in Melbourne, with all-inclusive wedding packages.
How do I plan a small simple wedding?
Enquire with a small wedding venue on this list, or reach out to a small wedding planner such as Popup with Style.
How many guests is considered a small wedding?
A small wedding is considered anything from 2 guests (anything less is really an elopement), up to around 50 guests.
Best micro wedding venues in Melbourne?
Check out all of the micro wedding venues on this post. My own favourite might just be Rupert on Rupert.
I photograph weddings. Hire me to photograph your micro wedding or Small Wedding anywhere (if you want).
Briars Atlas- Small Melbourne Wedding Photographer – https://briarsatlas.com